Great First Bike For A Kid - Specialized Hotrock 16
** Editor's Update 2018: Specialized now only makes the "Riprock" in the 16" size. We are fans of this company's bicycles and while our experieince was with the "Hotrock", we trust that the 16" Riprock is equally good ($240).
Our son just turned 5yrs and lately we noticed his formerly favorite balance-bike (sans pedals) was now getting as much attention as a snowblower in summer.  "He's ready for the next challenge," we reasoned and set out to purchase his first real bike.  But which two-wheeler is best for a 46-inch tall (117cm) rookie rider?  Our vote goes to a 16-inch Specialized. 
Now I freely admit that we can be a bit bike-snobbish, so a $79 Huffy from Toys R' Us was not going to make the consideration list.  But, bikes are our family's primary mode of local transport year round--to school, neighborhood shops, playgrounds, fun rides, etc. Read about our prior Box Bike purchase here.--so our intense usage justifies a higher price tag (assuming the increased cost translates into a higher quality bike, of course).   With the 16-inch Specialized Hotrock, it does.
Most important, the Hotrock's frame geometry is very user-friendly for the little rider.  Improper handlebar height, seatpost angle, saddle size and tube angles, can all make learning to ride more complicated for those with short arms and legs.  But, Specialized engineers pair lightweight aluminum with an ergonomic design combination to assist with balance not thwart it.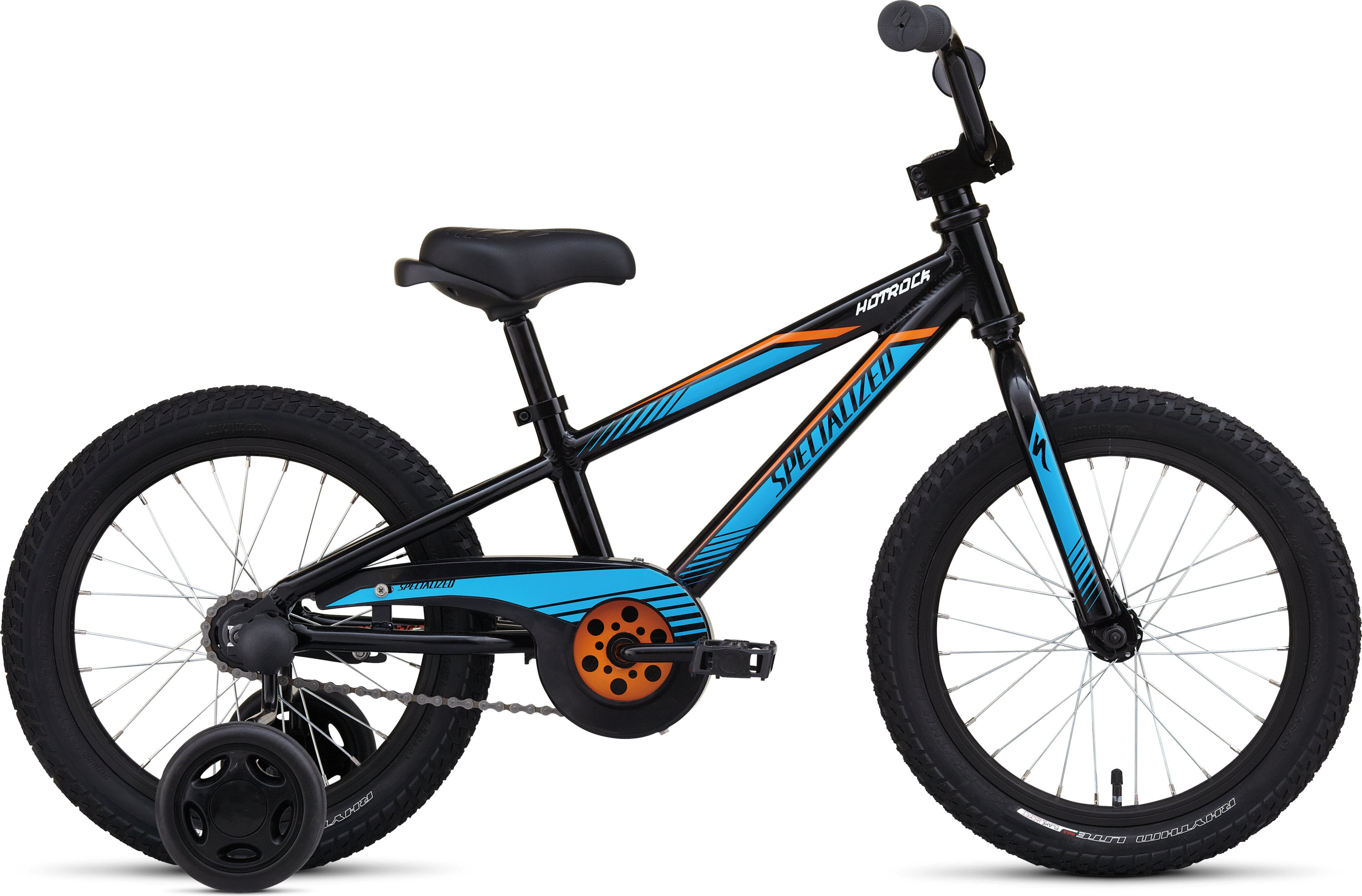 The convenient built-in handle positioned behind the saddle is another intuitive feature to help move/lift the bike.  Ample reflectors help oncomers with visibility.  The coaster brakes stop without much pressure required.  And, the soft yet durable tires promote a smooth ride.  
As for negatives, we would prefer a quick-release seatpost height clamp rather than an allen wrench bolt--this would make seatpost adjustments much simpler on the road. The training wheels are useless and counterproductive to proper leaning/learning technique (hence the popularity of pedal-free balance bikes) so Specialized should eliminate these and knock off $20 from the overall cost.  (For those kids who still need a little help balancing the first few times, we recommend the Trainer Handle.)  Also, purchasing a bike lock may be prudent since the bike costs $215.
Watching your child learn to ride a bike for the first time is one of those milestone memories.  Don't cheap out on a bike that doesn't match the weight of the moment.