New Fitness Equipment for 2015 - IHRSA Review
My takeaway from 2015's IHRSA show--where the fitness industry's biggest players reveal their latest and greatest equipment--is that not much new or better "stuff" is coming this year.
I strolled the aisles (and occassionally posed for photographs) with close friend and colleague, Jen W.--The Biggest Loser's new hit trainer. And, unlike past shows that wowed me with new equipment, this year's show was a bit of a dud.
Healthy-travel expert, Jim Kaese & Biggest Loser Trainer Jen pose for Star Trac

That said, here are a few new items that caught my attention and raised my heart rate:
Life Fitness water rowing machine - Row GX Trainer
Water-based rowing machines are quickly becoming favored by many exercise enthusiasts who appreciate their quiet "swish" (vs. louder flywheel models) and smaller footprint.  I'm glad to see Life Fitness introduce a commercial model that will compete directly with the WaterRower brand of machines.  Life Fitness intelligently designed the water tank on a vertical platform (vs. horizontal) which saves space and should offer more durability.
Matrix Fitness Connexus Perimeter
There's no questioning the growth of body weight and gravity-based exercise.  Matrix Fitness is now introducing a product that will allow fitness folks to connect accessories or hand grab for a broad variety of exercises.  Also note the vertical "shield" for medicine ball throwing/rebounding.  Cool!
Running Unlimited Zone Dome
Although the "Dome" was not first introduced this year, it's entry into the U.S. market is just starting to push in 2015.  Woodway paired one of its top-rated treadmills with a Zone Dome at this year's IHRSA show and the feedback was incredible.  Look for Domes to start appearing in your local health clubs very soon.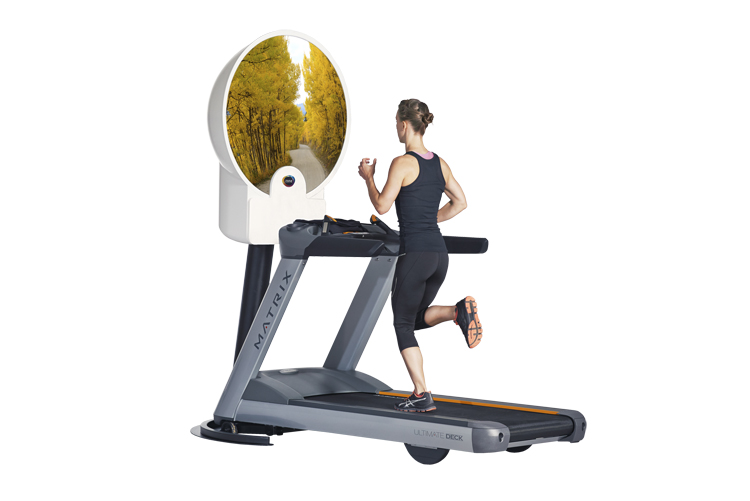 Cybex SPARC
While a new cardio machine from Cybex, the SPARC is based off of the popular and successful ARC Trainer--basically a stripped down version.  Instead of a bunch of bells, whistles, and computer programs, SPARC provides resistance via fan and variability with three manually controlled incline positions.  It's marketed as an alternative for those desiring a high intensity workout in limited time.  Only four minutes needed for a challenging and beneficial sweat?  Seems a bit optimistic, but the folks at Cybex usually know their craft and refrain from puffery.
GolfBoard
This product was not at IHRSA, but it should be!  The company behind it had a booth promoting another product (TotalWaveFitness).  Why not bring a GolfBoard along too and stick it in the corner?  Better yet, have a company rep ride it around the show aisles!  We think golf courses looking to broaden their revenues may find a creative and fun way to attract golfers with this surfboard, skateboard, golfcart combination. Learn more and watch the rockin' video here.